Past productions
2018


Sagor och sånger i november
(November Stories and Songs)
Co-production with Resonaarigroup and Girls'n Qvinns


2017

Min historia

(My History)
A festive seminar on the relationship between art, history and intellectual disabilities


2017



Drömmar och arbete
(Dreams and Work)
A performance with DuvTeatern and Resonaarigroup


2017



Årtalsprofessorerna
(The Biography Professors)
A performative lecture


2015-2016

Välkommen glada släkting!

(Welcome, Happy Family!)
Impro with DuvTeatern


2015

Kansalaiset! Medborgare!

(Citizens!)
Video piece


2014

Den Brinnande Vargen

- en soaré med DuvTeatern
(The Burning Wolf - a soiré with DuvTeatern)


2011-2015

Duva/Diva


A photography exhibition


2011

En rovfågel flyger in

- en variation på Carmen

Mustien siipien lintu

- variaatio Carmenista

(Carmen, Bird of Prey)


2007

Sagan om Hans och Greta och mycket annat

(The Story of Hansel and Gretel and More Besides)


2005

Vita skuggor

(White Shadows)

Photography exhibition


2003

Vita skuggor

-en version av A. Tjechovs Tre Systrar

(White Shadows - a verision of Checkhov's Three Sisters)


2001

Ofelias land

-en version av W. Shakespeares Hamlet

(Ophelia's Country - a version of Shakespeare's Hamlet)


1999

I häxornas och vampyrernas stad

-en version av W. Shakespeares Romeo och Julia

(In the City of Witches and Vampires - a version of Shakespeare's Romeo and Juliet)


1996

Himmel på jorden

(Heaven on Earth)

Performance by DUV i Mellersta Nylands Drama Club

Publications

Den Brinnande Vargen. Dikter från DuvTeatern.
(The Burning Wolf. Poems from DuvTeatern)
2015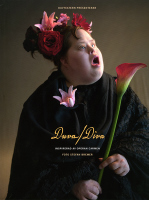 Duva/Diva
Jubilee publication
2011
Documentary films about DuvTeatern
Den tysta sångerskan
(The Silent Singer)
by Anna Blom/ Långfilm productions
2012
Nu är du Hamlet!
(Now You Are Hamlet!)

by Ulrika Bengts/ AB Talking Heads Oy
2002
DuvTeatern has received the following awards and prizes:
2019
The Bojan Sonntag Prize
Vimma Honourable mention by The Threshold Association's (Kynnys RY) for the performance I det stora landskapet, co-created with Svenska Teatern, Resonaarigroup and Wegelius Kammarstråkar.

2015
Finnish State Prize for Theatre
The Nyland Region's Prize
The Thalia Prize for the performance The Burning Wolf, co-created with Klockriketeatern
2014
The Antonia Prize for the performance The Burning Wolf, co-created with Klockriketeatern
2012
The Stina Krooks Prize for Outstanding Contribution to Theatre